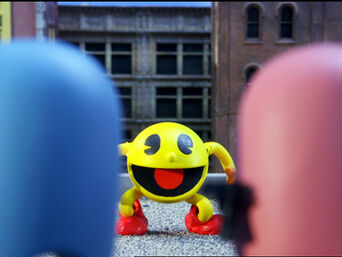 Episode Summery
Edit
Pac-Manize Me- Pac-Man goes around chomping food & getting to full.
The Jungle Look- Baloo teaches Mowgli the safetyness & dangers of the jungle.
MAD News - The MAD News anchor announces that cows in 1993 had sharp spines all over their bodies. (MAD News segment)
Opening
Pac-Manize Me (Video game parody of Pac-Man, movie parody of Super size me)
Animated Marginals
Hamton Pig Flu (A TV parody of Tiny Toon Adventures)
The Krusty Plankton (A TV Parody of SpongeBob SquarePants)
Spy vs. Spy segment
Animated Marginals
Pac-Tris (Video game parody of Pac-Man & Tetris)
Coyote's Sucsess (Parody of Wile E. Coyote & Road Runner)
A Man barfs on a woman
Cat eats dog
Buzz Goes Rampaging (Parody of Toy Story)
Rejected Phineas and Ferb Characters (TV parody of Phineas and Ferb)
The Jungle Look (Movie Parody of Disney's The Jungle Book/TV Network Parody of Animal Planet)
Credits
Wile E. Coyote & Road Runner also apper in Pac-Manize Me were Pac-Man eats Road then farts him out.
In The Jungle Look there is a real coyote chasing a real roadrunner.
This was the 1st time Tiny Toons is spoofed on MAD.
Pac-Man was spoofed 2 times in the episode.
Yogi Bear, Robin Hood (Disney), Mordicai & Rigby (from Regular show), & Larryboy (Veggietales) have cameos.
SpongeBob was spoofed 2 times in the episode.
Phineas and Ferb is also spoofed.
Ad blocker interference detected!
Wikia is a free-to-use site that makes money from advertising. We have a modified experience for viewers using ad blockers

Wikia is not accessible if you've made further modifications. Remove the custom ad blocker rule(s) and the page will load as expected.